Singapore Travel Diary + Tips for Selecting the Right Hotel for You
Singapore is a modern, cleaner version of New York City and serves as the financial hub of Asia. The bustling city draws millions in visitors each year. Last year, I was one of the lucky ones to brace this beautiful city for a few days. It's a perfect mesh of the different Asian cultures. My trip to Singapore was entirely accidental. My husband and I initially planned to go to Bali for our honeymoon and after doing extensive research, I found out that all the flights to Bali had at least one stop and the total flight time was at least 25 hours. We decided to stop in Singapore for four days, to recoup and get used to the time difference (it's a 12 hour difference). It was the perfect resting place before heading off to Bali.
Our flight to Singapore had a layover in China. Our flight to China was 15 hours nonstop from New York and we flew with China Southern Airlines. Thereafter, we got on another 4 hour flight to Singapore. China Southern was not my first preference for our trip, I really wanted to fly with Qatar Airlines but their prices had doubled within a couple of months (I booked the trip 7 months before the daparture date).
P.S: I took the pictures above at Guangzhou Baiyun International Airport, China, I simply loved the artsy feel of the walkways.
The hotel:
Singapore has some of the most beautiful, complex and intricately designed hotels that are simply breath-taking. I fell in love with Park Royal on Pickering Hotel as soon as I saw it; it didn't matter how many more hotels I looked at, I kept coming back to this one. My main challenge was convincing my husband that we needed to spend more money on a luxury hotel :-).
Parkroyal is a luxury hotel uniquely designed with elevated terraced gardens, with many calling it a 'hotel in a garden.' I liked its central location and proximity to a lot of the tourist places such as China Town, Clarke Quay (famous nightlife district), and other places that are a 15- minute train ride away. We were so exhausted upon arrival, we made ample use of the restaurant onsite, which had a delicious variety of Asian, Peranakan and international cuisines.
I was captivated by Park Royal's super modern rooms and over the top infinity swimming pool that overlooks the city skyline. What I loved the most about the pool are the vibrant-looking cabanas where you can just relax and lay down. They stole my heart.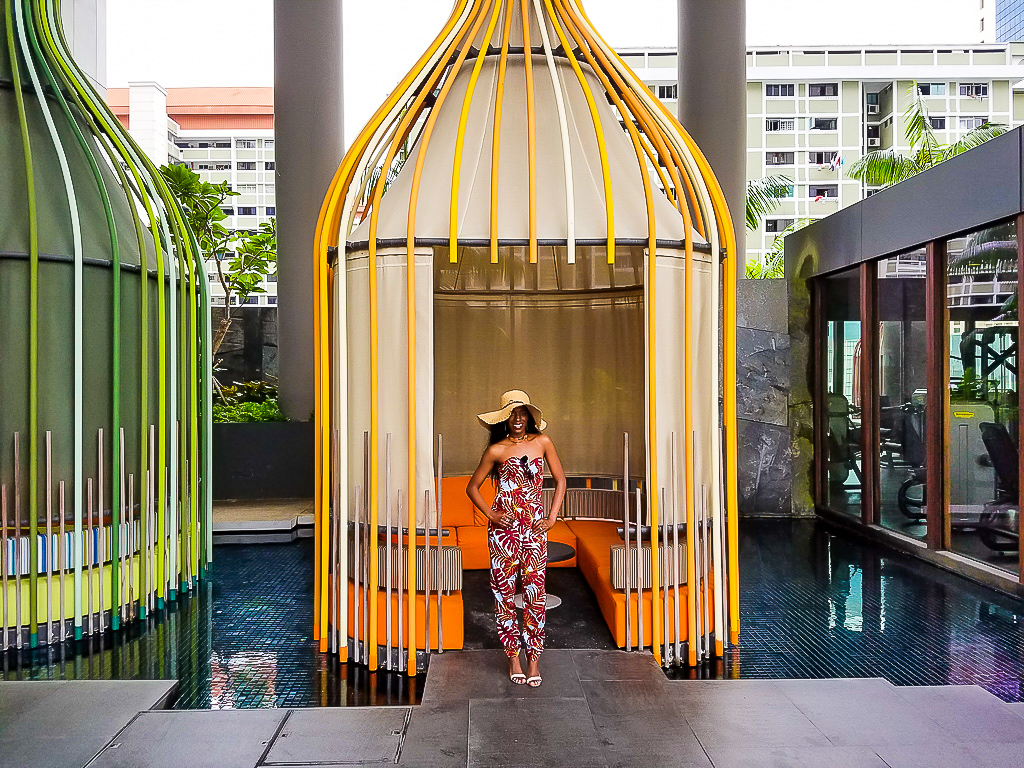 Singapore was the main hub for our trip. Since we were traveling to three different countries, it was cheaper to book individual flights and surprisingly, the travel time was way less than booking a multi city flight, which was double the cost and double the travel time. Our main flight was from New York to Singapore (through China); we then booked individual flights from Singapore to Bali, then Singapore to Thailand. We had a total of 9 flights for this entire trip (insane right?).
The following shots were taken at dawn the morning of our departure from Singapore to Bali. I prefer taking shots at the hotel very early in the mornin whilst everyone is sleeping so I can get clear shots with no crowds in the background. You know your husband loves you when obliges to take the morning shots (at least I like to think so but he only did it so he wouldn't hear me whining the whole time).
Tips in Choosing the Right Hotel for You:
1. Do your research on the area and check out the reviews (both positive and negative ones).
2. Figure out how far the hotel is from the tourist attractions – you never want to choose a hotel that is cheaper but hours away from the main attraction, that will cost you more in transportation costs. My tip is to figure out the main tourist location and base your search off that location.
3. Set a budget - this determines what type of hotels you will be looking at. Most sites such as booking, travelocity, tripadvisor, etc., allow you to filter your search so you only get targeted results. Kevin and I prefer to splurge a little on the hotels where we are staying because they are a always a huge part of our travel experience.
4. Make sure you know the free amenities that are available to you such as parking, wifi, breakfast or free shuttle service.
5. Make use of the hotel concierge to help you navigate your way around – don't be so quick to book tours with the hotel, they will charge you thrice more than if you were to do the tours on your own. Most times, it's as simple as getting a cab or public transportation to the tourist site and just paying the entrance fee .
6. Know the hotel's clientele - let's face it, not every hotel is for everyone, some are perfect for honeymooners, families, backpackers, business people, etc. You don't want to go on your honeymoon and find that your hotel is full of of loud kids.
Thank you for stopping by! Watch out for my next post where I explore some of the top tourist attractions in Singapore.
Until next time, stay blessed!